About Associate Account Director (Event) Recruitment:
Our client is one of the world's leading advertising and event agencies, the fastest-growing agency in Hong Kong, they also are a Multi-client 4A agency serving industry-leading brands such as Samsung, Samsonite, American Tourister, MTR, California Almond Board and 1010. now, they are recruiting one Associate Account Director with event management experience to manage their Sales and Key Account Management in the Event team.
Responsibilities:
This role needs to develop integrated brand experiential marketing solutions, and supervise the team to deliver quality account servicing, including implementation and post-campaign follow-up. For the presentation, Lead and manage event ideation and budget and timeline effectively and efficiently. And good communication with vendors in a professional manner, and ensure you can build and maintain a good relationship with Clients
Requirements:
University degree, preferably in Marketing/ Communication/ Advertising or related discipline
At least 5 years of working experience in an Event/ Advertising/ PR/ Roadshow agency
Solid experience in event planning, production and execution
Strong project management skills and experience in negotiating and working with different internal and external parties
Able to deliver under high pressure and to perform in a deadline-driven environment
Able to lead, motivate, mentor, and build the team
Dynamic, passionate with innovative thinking & pleasant personality
Good communication and presentation skills
Fluent in English and Cantonese, Mandarin is a plus
Candidates with less experience will be considered for Senior Account Manager
Company Size – around 60 staff in Sheung Wan
Working hours – 5 days work (9:00 am – 6:00pm)
Benefits – 15 days Annual Leave, Public Holiday, Bonus
Fringe benefit – Medical plan, annual checkup, dental, life insurance after completing probation
Salary Range – HK$35 – 40K for AAD and 30 -35K for SAM
Interested and qualified parties please send full resume including current salary, expected salary and availability to our recruitment email: hr@sunjob.com.hk
Our Resume Submit
Please call us at +852 2334 8870 for any recruiting inquiries.
Or click WhatsApp recruitment
Working Environment: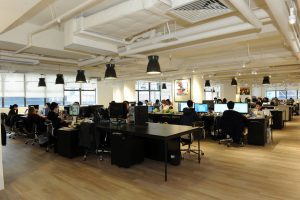 Handled Event Projects and Partners: