Graphic Designer (Digital Marketing)
Our client is a business messaging platform, it provides one inbox for all communication channels with all the best business tools and workflow automation for brands, it makes good communication externally with customers and internally with design teams. Also, they serve clients across industries and sizes including insurance giants, telecom enterprises, and SMEs in the e-commerce, retail, education, and medical industry. Now, they are recruiting one Graphic Designer with Digital Marketing experience to join their Digital design team.
Responsibilities:
Create first-class marketing/branding materials for marketing/branding campaigns
Create first-class graphics for products and news announcements for a wide range of channels (company website, blog post, Instagram, Facebook, YouTube, etc.)
Enhance and maintain our company website design
Generate creative ideas and materials for online/ offline ads, social media, and events
Communicate design direction, decisions, and rationale to team lead, marketing, and growth team
Work closely with Design, Growth, and Marketing team to build all materials company needs
Requirements:
Min TWO years of relevant experience; Graphic Designer add with Digital Marketing experience are preferred.
Strong sense of marketing and creativeness.
Proficiency in Photoshop, Illustrator etc.
Strong sense of responsibility, able to work independently to meet project deadlines.
Humble to embrace better ideas from others, eager to make things better, open to challenges and possibilities.
Experience with WordPress, Webflow is a plus – Experience with AfterEffects, Premiere Pro is a plus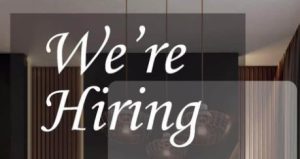 Candidates with more years of relevant working experience will be considered for "Senior Graphic Designer".
5 Days of work at San Po Kong.
Medical, 10 days Annual Leave,
Interested and qualified parties please send full resume and design portfolio including current salary, expected salary and availability to our recruitment email: hr@sunjob.com.hk
Please call us at +852 2334 8870 for any recruiting inquiries.
Or Click WhatsApp recruitment
Our Resume Submit
All information received will be strictly confidential and only for employment-related recruitment/purpose.
We are still recruiting for this position, and are you suitable for this Graphic Designer?
and please describe "What reason makes you a good candidate for this position?"